Corporate Services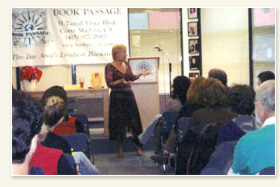 Companies Can Suffer from Endurance, Too.
Is your company, department, or team suffering from a culture that's locked into negative, fear-based patterns? Are your employees distrustful or unmotivated? If the answer is yes, your organization is enduring. Enduring is as incompatible with business success as it is with personal fulfillment.
---
Jane masterfully guided us through an enlightening look at our individual and collective dreams, goals, hurdles and emotions, giving us valuable guidelines for the strategic work ahead of us.
-Kurt Huget
---
Through my consulting services, I can help your company—as a group and as individuals—become a dynamic, positive workplace that sparks inspiration, happiness, and, yes, profitability.
I am committed to helping you and your organization:
Discover your unique symptoms of Endurance.
Recognize the true costs of Endurance professionally and financially.
Overcome the five obstacles to creating a dynamic, satisfying, and successful team and work environment.
Emerge as a positive change agent.
What participants at one recent business retreat had to say:
Your presentation and leadership were a resounding success in setting the stage for the exceedingly meaningful and productive strategic planning work at our staff retreat. We are grateful to you for making it all happen. Your contribution was noted by everyone as a pivotal one - a catalyst - in eliminating or greatly reducing the "limiting beliefs" regarding our work.
Cassandra Flipper, Executive Director, Bread and Roses
---
Jane Straus is a most extraordinary facilitator, coach and role model. Jane is fearless and awesomely competent at the work she champions. The work that we completed with Jane was nothing less than pivotal for our organization. In a two-hour session she transformed our outlook and provided us concrete tools for overcoming obstacles (as individuals and as a group).
Elizabeth Share, Program Director, Bread and Roses
---
I've done a lot of workshops and have left many feeling let down and frustrated. With your workshop I learned something about myself, one of my patterns of endurance, and I came away with a tool to re-program my belief system. I especially enjoyed watching how you were able to create a safe space for heartfelt sharing. Thank you for your excellent work!
Dan Gronwald, Database/Website Manager, Bread and Roses
---
The inspiration and insight that you brought to our retreat was invaluable. You set the tone for us to be open and courageous. You helped us identify some of our limiting beliefs and showed how to change our outlook. I hope to work with you again in the future.

Carolyn Gauthier, Producer, Bread and Roses
---
Comments from Attendees at a Recent Conference:
You are awesome! Thank you.
Very motivating speaker-great presentation. Thanks, Jane, for making learning fun and true!
Enjoyed very much!
Good speaker.
Very inspirational and encouraging!
We need more of this type of speaker!
Excellent class-enjoyed the not "canned" presentation. Speaker knows her stuff and very compassionate and flexible with questions.
Kept attention-not into new age concept.
Wonderful workshop!
This was a wonderful session, providing a lot of encouragement and self well-being.
Great topic! Insightful to personal success.