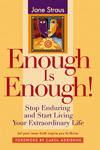 Enough Is Enough! reaches into the reader's heart with poignant stories of courage and the author's own candid history, inspiring us to embrace life with enthusiasm, joy, and intimacy.
- John Gray, Men Are from Mars, Women Are from Venus
Jane's Mission Statement
Jane is dedicated to using her unique insights and skills to help individuals, couples, and audiences create fulfilling
relationships and extraordinary lives.


Media

Jane was FANTASTIC! Her sense of humor and great information made her a perfect fit for our show!
- Out West with Fred Imus and Nicole Cox, CNN Radio Network, Tucson

Invite Jane

Contact Jane for:





Your presentation and leadership were catalysts in eliminating our team's limiting beliefs.
- Cassandra Flipper, Executive Director, Bread and Roses

Get Jane's Personal Help

My capacity for love has increased dramatically as a result of the guidance you have provided.
- Joyce A.

Ask Jane Radio Show

It was only a week ago that I first heard your radio show and I was riveted. I am so grateful for the tremendous difference you've made in my life.
- Carolyn Y.